Fast, Professional, & Courteous Junk Removal
Upfront Low Prices & Free Estimates
Toll Free

1-855-JUNKIT1
About Patriots Junk Removal & Hauling
Company History / Why We're Called Patriots.
What would eventually become the theme behind Patriots Junk Removal & Hauling began when founder Boone Smith answered a call to service and joined the US Boone served as a Sonar-man on-board the greatest warship in the fleet, the USS John L. Hall (FFG-32). Having grown up in the Katy TX area, Boone returned home after serving and started a junk removal and hauling company with a mission: Supporting our United States troops, and serving our community.
Patriots is no longer under Boone's leadership, however we will remain dedicated to his dream and principles by supporting our United States Armed Forces, our community, and our environment.
He was proud to serve our country and now we are proud to serve and support our community.
We Salute America's Patriots!
In addition to providing Patriots Discounts to active duty military and veterans, Patriots Junk Removal & Hauling provides career opportunities for veteran service members. You have done so much for us; we would like the opportunity to do something for you.
If you are interested in employment, please contact us by phone or email for further details.
Office Hours
Monday - Saturday: 8am - 5pm, Sunday: Closed.
Location
Office Address: 24044 Cinco Village Center Blvd. Ste 100 Katy Texas 77494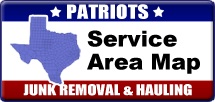 Want to find out if Patriots Junk Removal picks up in your city?
Just take a look at our service area map.