Fast, Professional, & Courteous Junk Removal
Upfront Low Prices & Free Estimates
Toll Free

1-855-JUNKIT1
Construction Debris Removal
Back to List of Accepted Items
If you're a builder, contractor, or the do-it-yourself type, construction debris can pile up fast. Patriot Junk Removal picks up building and demolition materials at your home, business, or construction site.
Junk items removed by Patriots' construction disposal service include:
Concrete and Asphalt
Scrap Wood / Lumber
Metal Recycling
Paint
Insulation
Dirt and Rocks
Salvage or Demolition Junk
Construction Junk Removal with the Reliability & Safety You Need.
When you're hard at work on the jobsite, the last thing you want to worry about is your junk removal service.
At Patriots Junk Removal, we understand that you need junk hauling pros who get things done on time, and stay safe. That's why our highly professional haulers prioritize the safety of both your crew and our own. We work hard to get the debris out of your way, and haul it away on schedule.
And of course, Patriots is Licensed and Insured. We'll handle the cleanup, and you can focus on the job at hand.
---
Junk Removal Services for Contractors and Builders
No job too big, no job too small
Whether you're a lone independent contractor or a larger-scale construction crew, we've got the manpower and equipment to keep your project clean.
Patriots' haulers can remove all kinds of construction junk, from hauling away the scrap pile, to trucking out large volumes of debris from demolition operations.
---
Construction Debris Hauling: Schedule a Free Estimate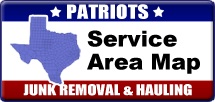 To schedule a FREE on-site consultation and estimate, just contact Patriots Online or give us a call at 1-855-JUNKIT1.