Fast, Professional, & Courteous Junk Removal
Upfront Low Prices & Free Estimates
Toll Free

1-855-JUNKIT1
Junk Appliance Hauling
Back to List of Accepted Items
If you need appliance removal, we do residential and commercial appliance hauling. Here are just some types of old appliances that we can pick up:
Refrigerators
Washers and Dryers
Televisions / TVs
Dishwashers
Ovens and Microwaves
Water Heaters
How to Schedule Appliance Removal
To schedule appliance hauling including a free onsite estimate up-front, please contacting us online or call 1-855-JUNKIT1.
Our expert haulers are happy to carry heavy refrigerators, washing machines, big televisions, and other large appliances out to the truck - with no added labor charges.
---
What if I only have one or two Junk Appliances?
Not a problem - our low minimum volume pricesmean you'll still get an outstanding value when we haul your appliances, even if you only have one big appliance to dispose of.
Okay, what if I need to remove a LOT of Appliances?
Patriots has that covered too! If you're rennovating your home or even replacing hundreds of appliances in an apartment complex or hotel, we've got trucks and manpower to haul and recycle your unwanted appliances in a hurry, and are able to offer high volume discounts in many cases.
---
Appliance Removal: Service Area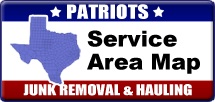 Not sure if Patriots picks up appliances in your area? Just check our Service Area Map to find out if we haul appliances and other junk in a city near you.
Patriots Junk Removal provides appliance removal and recycling service in Houston, Texas, and many other cities in the nearby vincinity.