Texas Chapter Paralyzed Veterans of America is a local organization dedicated to serving America's injured veterans and the Wounded Warrior Project provides free programs and services to address the needs of wounded warriors and fill gaps in government care. To find out more about their mission or make a donation, please visit www.texaspva.org and www.woundedwarriorproject.org.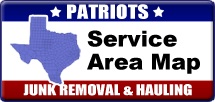 Want to find out if Patriots Junk Removal picks up in your city?
Just take a look at our service area map.