Fast, Professional, & Courteous Junk Removal
Upfront Low Prices & Free Estimates
Toll Free

1-855-JUNKIT1
Commercial Junk Removal & Office Junk Hauling
Back to List of Accepted Items
If your business is moving, renovating, replacing furniture, or just doing an office cleanout, Patriot makes office junk removal a breeze! We pick up chairs, desks, cubicles, computer junk, and just about any other office garbage that you need hauled.
Here are just some examples of commercial trash disposal items that we pick up:
Office Trash and Garbage
Desks and Tables
Chairs and other Office Furniture
Packaging Garbage & Recyclings
Cubicle Walls
Old carpeting and tiles
Patriots Makes Office Cleanup a Breeze
To schedule business and office junk removal, please take a moment to contact us online. We'll arrange a free, no obligation onsite estimate.
After approval, we'll get the junk out fast - we're equipped to tackle hauling jobs large and small, from seasonal small business cleanup to larger corporate office junk removal projects.
---
What Types of Junk can Patriots Remove from my Office or Business?
Just about any commercial junk you might have. We pick up everyday office waste including garbage, recyclable paper items (including shredded paper), boxes, and other shipping materials.
If you're renovating or relocating, we also remove office furniture, carpeting, cubicle walls, electronic waste items, and more.
There's no need to make room for a dumpster or lift heavy tables and desks yourself. Our highly professional team of junk haulers will take junk items directly from your building to one of our junk trucks, then haul it away immediately.
---
Commercial Junk Removal Service Area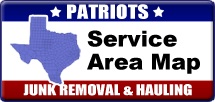 Our Houston, Texas based service area is illustrated on this map. If you're not sure whether your business is within range or you're slightly outside, please feel free to call Patriots at 1-855-JUNKIT1 1-855-JUNKIT1.