Fast, Professional, & Courteous Junk Removal
Upfront Low Prices & Free Estimates
Toll Free

1-855-JUNKIT1
E-Waste Pick Up and Recycling
Back to List of Accepted Items
Patriots Junk Removal can pickup old or broken electronic items. After we remove e-waste items, they are taken to an electronics recycling facility. If you need e-waste removal, here is some of the electronic junk that we remove:
Televisions / TVs
Monitors - CRT and LCD
Printers and Fax Machines
How to Schedule E-Waste Pick-Up
Need some old, broken, or junk electronics hauled away? Just contact Patriots Junk Removal online to schedule a free on-site estimate for e-waste removal.
You can also schedule by phone - just call 1-855-JUNKIT1 1-855-JUNKIT1.
---
Why can't electronics be thrown away in a dumpster?
Electronic equipment such as Computers, Televisions, Laptops, and batteries contain contain chemicals that can be harmful to the environment and human health. E-Waste items that are thrown into a landfill (or illegally dumped elsewhere) release these toxic components over time, leeching into soil and polluting groundwater supplies.
Patriots makes it easy to get rid of e-waste responsibly. We'll pick up your junk electronics working or broken, right at your home or business, then haul them to a specialized recycling facility where they're broken down, separated to extract reusable materials, and safely processed.
Texas is a beautiful place to live - we're working hard to keep it that way!
---
E-Waste Pick Up Area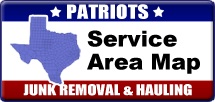 Find out if Patriots Junk Removal offers e-waste disposal service in your area by checking our Service Area Map - We haul electronic waste and other junk in Houston, and other cities around the Greater Houston Area.